[ Desktop version | Mobile version ]
LOOK  YOUR  BEST
Daytona Tuxedos
formerly John's Bridal for 30 years
1866 S. Ridgewood Ave
South Daytona, Fl. 32119
Phone 386-322-6868   text  386-631-8632
Special  $1  tux shirts
$5 new & used bow ties
for school uniforms
$75 used / 120 new suits
and tuxedos in stock
Walk-in hours
Weekdays   2-6, 
Sat 11-4 
CALL TO MEET ANYTIME
Daytona Tuxedos rents and sells tuxedos for men. tuxedos for women, wedding tuxedos, cruise tuxedos, prom tuxedos, wedding suits, tuxedo shirts, tuxedo pants, vests, bow ties, long ties, career apparel, Volusia County band uniforms, waitress aprons, poker dealer aprons, boys suits, infant suits, Bar/Bat Mitzvah suits  Communion suits, shirts, tuxedo pants for men and women, tuxedo skirts for women, tuxedo shorts for women and men, bow ties, for women, cross-over ties, bolo ties, self ties, Kentucky ties, bow ties, self tie long ties, infant tuxedos, boys tuxedos, grey tuxedos, white tuxedos, navy tuxedos, burgundy tuxedos, blue tuxedos, white & black tuxedos,  red tuxedos, ivory tuxedos, black tuxedos, Zoot suits, slim fit tuxedos, modern fit tuxedos, traditional fit tuxedos, camo tuxedos, Dumb and Dumber tuxedos, with the largest selection in the United States.

Tuxedo rentals starting at $79 plus tax.
Vest, shoes, RUSH, extra
Tuxedos to buy
bottom of this page
It's never too late to rent a tux
Boy's & infants suits & tuxedos
$39 - $59
gray, tan, black, white, ivory, navy
This style is LEG SHOW
hemmed 5" above heal
Click on our Facebook page
to see how good everyone
looks in their tuxedos.
---
THINK PEOPLE
you are wearing the tux rental  1-4  hours,
Why pay $250 - $400?then get charged
$40 to do a change, even a tie.
We don't just rent you a tux,
we can tailor it to fit better.
Browse for hours through
our catalogs.
 DESKTOP VERSION has more catalogs
---
BUY A TUX
Most coats $59 - $75
pants $40, shirt < $25
Shoes $10 - $40
Ties $5 - $20
in photos below
It's never too late to rent a tuxedo or suit
Final Fittings are Thursday after 2pm
Rentals due back Monday by 6pm.
These styles start at $79 to rent: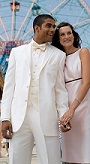 Prom tuxedos, wedding tuxedos, slim fit tuxedos, super 100's tuxedos, super 100's suits, camouflage tuxedos,
James Bond 007 tuxedos, white tuxedos with black trim, and largest tuxedo selection in the USA. 
Mossy Oak camouflage vests, snow camo vest, pink camo vest, purple camo vest
Daytona Tuxedos has Tuxedo Rentals & Suit Rentals & Sales. Serving South Daytona, Daytona Beach, Holly Hill, Ormond Beach, New Smyrna Beach, Edgewater, Oak Hill, DeLand, Deltona, Paisley, DeBary, Volusia County, Brevard County, Orange County, Flagler County, Altamonte Springs, Lakeland, Orlando, Titusville.
---
---
Don't pay over $200 for a tuxedo or suit rental.

1) Our prices for anything in our store $79 plus tax, add optional vest and shoes and other accesssories. Special orders are $149 - $179 plus tax..
 
2) We let you try on your tuxedo rental selection before renting it, instead of selecting from a picture in a catalog.

3) We rent full-back vests up to size 8x. ASK what size FULL BACK vests go up to at other shops. Many shops don't specify whether the vest you get is full-back or backless and always use backless vests for larger guys and kids. They will tell the customer that vests don't come in larger sizes or that backless vests are cooler. Wearing a backless vest is not "cool" and does not look good when your coat is removed.

4) If out of town measurements are called in wrong, our huge inventory allows us to change most items on the spot; rather than having the Bride worry about over-night shipping replacements arriving on her wedding day.

5) Daytona Tuxedos has big man tuxedos & suits. We have suited many football and basketball players. We carry 100's of styles of tuxedo coats up to SIZE 80, 1000's of vests up to SIZE 8x, over 30 shirt styles up to SIZE 7x, many shoe styles up to SIZE 18, and pants, up to SIZE 70 in pleated, non-pleated, thin leg, and wide leg, in wool or polyester, and suit pants with belt loops..Limited selection over size 70.

6) When you wear a suit, you always wear a belt. Why do most shops rent suit pants without belt loops? Our black suit rentals for $79 and have belt loops. Slim fit Super 150 suits rent for as low as $149 or your can purchase them for $180.00. Coat & pants.
 
7) When you rent a GRAY tuxedo or suit, we offer matching gray shoes & smoke color studs, and cufflinks. Our competitors offer gray tuxedos, but if you want gray or brown shoes, charge you up to $400 for a one event rental.
 
8) GROOM'S FREE PROGRAM:  With all Grooms Free Programs, the groom's tuxedo rental is free with 5 paid adult rentals and with 6 or more rentals.

9) We have many machines to tailor your rental for a proper look and offer athletic fits, slim fits, modern fits, and any fit. We do our best to have you look the same look as the photos in magazines.

10) National companies have EXCLUSIVE rights to use certain brand names, but you can get the same look and feel, but with a different label inside and "look your best" with John's tailoring of your tuxedo. 
 
11) We forward the phones after hours so we rarely miss a call.

12) We have been in business over 28 years and many of our products are MADE IN THE USA.

13) Same Day Service at an addition charge. Allow three hour process time. It's never too late to rent tuxedos from Daytona Tuxedos. Thank you for supporting a local company that supports US made products, our schools, and charges a fair price for products and services to you, your friends and relatives.