Push button above
to see catalogs
[ Desktop version | Mobile version ]
LOOK  YOUR  BEST  at
Daytona Tuxedos
661 Beville Road #121
South Daytona, Fl. 32119
Phone 386-322-6868  
text  386-631-8632
BOYS TAN SUITS sizes 6 months - 24 months $39
Sizes 2 - 20   $59.00 - shoes additional charge.
-----------------------------------------------------
SALE starts JUNE 1, click button above
July, August & September hours
Open  2pm - 6pm  Mon, Thurs, Fri, Sat
PLEASE make appointments for better service and avoid Thursdays to plan your wedding tuxedos.
---
It's never too late to rent a tux.
Visit our Facebook page to see how good everyone looks in our rental
We don't just rent you a tux,
we tailor your rental to fit better
and no extra charge for most changes.
THINK PEOPLE !!!
You are renting a tuxedo to wear 1-4 hours, why would you pay $200 - $400? Then they insult you with a $40 charge because you want to make a change. Our styles fit similar and are made similar. Most are made in the same factories and just a different label put inside. It's just a LABEL. Do you open your coat and take pics of the label of what brand you are wearing. Some people do, but my concern is giving you a better fitting tuxedo no matter what brand it is.
 In stock  TUXEDO  rentals $110 plus tax
Price includes coat, pant, shirt, studs, cuffs, vest, tie & shoes in stock
Coat styles in stock include: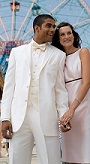 For out of town attendants - Tuxedo Measurement Form link is below in blue.
Daytona Prom tuxedo rentals, Daytona wedding tuxedos, Daytona special event tuxedo rentals
Tuxedo coats sizes 6 months - size 80 R, tuxedo vests sizes 6 month- 8x, tuxedo shirts size 6 months - 7x - 41
tuxedo shoes up to size 20 - big & tall formal wear.
Mossy Oak & Real Tree camouflage tuxedos, vests & ties in colors
Prom tuxedos, wedding tuxedos, slim fit tuxedos, Super 100s tuxedos
Super 100s suits, James Bond 007 tuxedo, zoot suits, white dinner jackets
Tuxedo rentals, suit rentals, vest rentals anytime - it's never too late 
Tuxedo final fittings is Thursday after 2pm.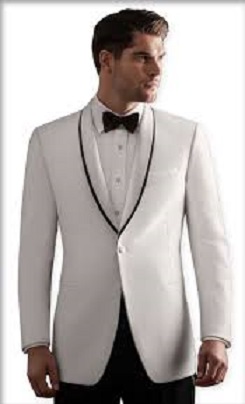 THE ONLY PLACE TO RENT THESE TUXEDOS IN DAYTONA
Check out our large selection of tuxedos for sale or rent.
-----------------------------
---
Men's Accessories